Published by Hue Wong on 11 Apr 2008 at 01:02 am
New HD renders
Here are the ships of the line. I didn't like some of the older 3d space ship modles, so I sat down and did some new models. I like these much better.
They are also much more detailed. The old models were made for 600X800 resolution, but these will stand up to HD 720p very nicely.
The ships are proofing rendered for quality checks.
They were modeled in 3d studio and the textures were created in photoshop.
The planet (Kellvettie Dru) in the background is also a test of the new High def texture maps. As I didn't like the old planet maps and like these MUCH, Much better.
The fist picture is of a s Stethomite lighter and its bigger cousin, a Stethomite frigate.
The smaller gray ship is The Catatonic Rabbit and Phlub's star ship, the Manta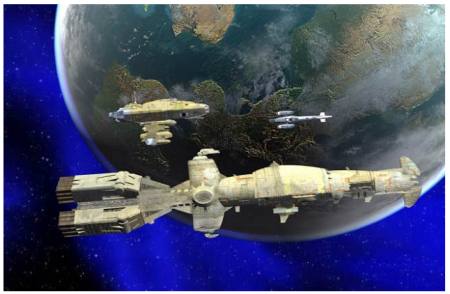 The second picture is a close up of the Stethomite lighter.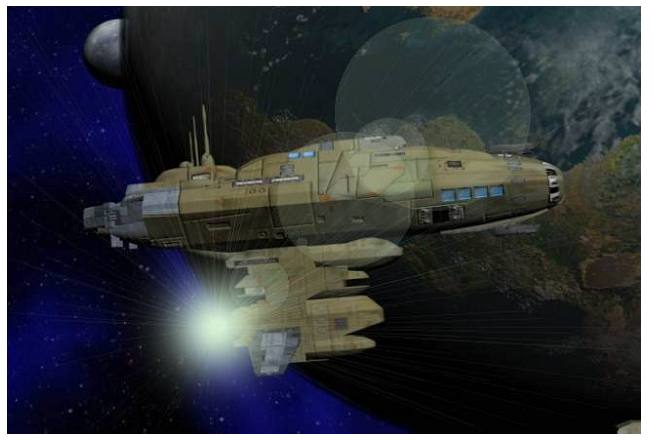 2 Responses to "New HD 3d Studio renders of the ship models."
Model Sailing Ship on 23 Apr 2009 at 1:12 am #

Model Sailing Ship…

Dynamic lighting: Notice that as you approach the stars, light is cast on the ship. As you change direction or move away the direction and intensity change. Filters on particles: As you move the ship around, lots of little stars are shot out as thrust….

uvigybenur on 26 Aug 2009 at 3:22 pm #

uvigybenur…

Cool Ships! Kinda Fossian. Did you ever study his work?
Leave a Reply
You must be logged in to post a comment.